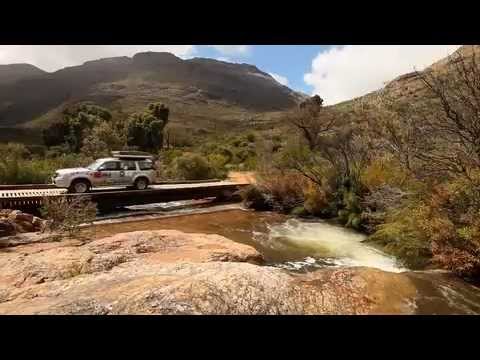 A four-minute video featuring the Cederberg Wilderness Area, a CapeNature conservation zone which protects some of the most spectacular mountain scenery in South Africa. Situated about three hours north-east of Cape Town, this 71 000-hectare reserve is a true wilderness area, where it's possible to hike for several days without seeing anyone else.
The Cederberg mountains are famous for their fantastic rock formations like the Maltese Cross and Wolfberg Arch, while in the numerous caves and overhangs you may see some of the finest – and oldest – examples of rock art in Africa. Then there are several thousand species of plants and animals, including rare examples of mountain fynbos like the snow protea, and the beautiful yet endangered Ceder tree.
The diminutive Cape leopard still thrives in these mountains, but don't expect to see one of these secretive predators anytime soon. More likely you will see black eagles soaring overhead – the Cederberg hosts one of the biggest and healthiest populations of these imperious raptors. The river systems are special too: there exists in these mountains the greatest diversity of endemic fish, south of the Zambezi River. There are at least eight species of fish in the Cederberg's catchment which are found nowhere else on earth. Yet most of these are under threat of extinction, because of alien fish like small-mouth bass, and invasive, non-indigenous trees which deplete water supplies. Fortunately, CapeNature and their partners are making great strides to rectify the situation.
I visited the Cederberg as part of my Year in the Wild journey to 31 of South Africa's most special nature reserves, and it remains one of my favourite wild areas, even though it's only a few hours drive from the second biggest city in South Africa. For more on CapeNature's reserves, go to http://www.capenature.org.za. For more on my experiences in the Cederberg, check out http://www.yearinthewild.com/our-journey/?step=116, or visit my Facebook page at http://www.facebook.com/yearinthewild.
Thanks again to my sponsors for making Year in the Wild possible: Total, Ford, Evosat, CapeNature, South African National Parks, Ezemvelo KZN Wildlife, Eastern Cape Parks, iSimangaliso Wetland Park, Conqueror Trailers, Vodacom, Digicape, Lacie, Frontrunner, Safari Centre Cape Town, K-Way, EeziAwn, National Luna, Nokia, Garmin, Goodyear, Global Fleet Sales, Hetzner, Clearstream Consulting and Escape Gear.